This was actually…incredibly sweet. I know, right?! A YA contemporary romance I enjoyed?! SEEMINGLY IMPOSSIBLE UNTIL TODAY.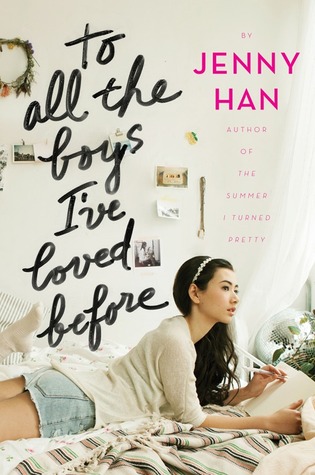 To All The Boys I've Loved Before by Jenny Han
What if all the crushes you ever had found out how you felt about them… all at once?
Sixteen-year-old Lara Jean Song keeps her love letters in a hatbox her mother gave her. They aren't love letters that anyone else wrote for her; these are ones she's written. One for every boy she's ever loved– five in all. When she writes, she pours out her heart and soul and says all the things she would never say in real life, because her letters are for her eyes only. Until the day her secret letters are mailed, and suddenly, Lara Jean's love life goes from imaginary to out of control.
---
OK THIS WAS ACTUALLY VERY SWEET. I'd been put off of it multiple times because the blurb- I'm not the biggest romance person (well, mostly because at this point in YA you've seen it all already, and a lot of relationships seem to be unhealthy and/or unrealistic) and the blurb lowkey implied a love triangle but!! It turned out not to be! And I absolutely adored it.
So, the book centers around Lara Jean: scrapbooker, baker, and fashionista. She loves her family and her home and cute things and she was just VERY NICE. But she still fought with her siblings and made bad choices and wasn't perfect! It was very refreshing.
I think that, actually, my favorite part of the book was how flawed everyone was. They do dumb things and blindly follow their emotions (wow #relatable) but you still see that they're trying and they care underneath it all.
Especially the boys: Peter was a bit of a jerk at first, but he did end up being a sweet fake boyfriend to Lara Jean! And then he ended up actually liking her and it was very soft and mushy and I'm not supposed to have this many feelings for YA romance. Send help. And Josh was deeply flawed at some parts, but he really did just care for Lara Jean and Margot and Kitty and was just a Nice Guy™. I loved that it seemed very love-triangle-esque originally but became much more interesting and emotional and way less convoluted than the usual YA love triangle! Kudos to you, Jenny Han.
Speaking of Kitty: WOW I LOVED HER. She was so spunky and sweet and tangible as a little sister and just wanted her family to be okay!! I must admit I did like Margot significantly less: she just seemed very snooty and bossy and didn't seem to have much regard for how her sisters were doing since she left? I also didn't understand why she was so mad that Josh had kissed Lara Jean when she had a) broken up with Josh and b) previously shown practically no emotion. Also, Lara Jean hadn't reciprocated the feelings at all?? It was just bizarre. But the presence & emphasis on family and siblings was so so good and so rare in YA that it was lovely!
All in all, this was just a very nice cute emotional book and I loved it (and I need to go buy the sequel with the money I don't have)!
i know i'm eons late reading/reviewing this book but: what were your thoughts? have you seen the movie (i loved it!)?