Hi hi hi, my fellow bloggers and Whovians! In light of all the happenings around Doctor Who, some very exciting ones too, I thought I'd write a post! It might mostly be fangirling and flailing and lots of excitement and only partly actually coherent and immensely factual sentences, but ah well.
To start: if you haven't heard the news already, Steven Moffat's leaving Doctor Who after Series 10 next year! This is kind of insane, considering how much work he's done on the show- he's been the lead writer and executive producer since 2010 (Series 5), he's written 45 episodes, along with a comedy special in 1999, and been the executive producer for even more. He's had some mixed feelings among the fans, as we well know.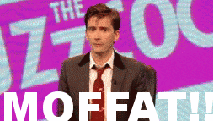 Personally, I'm a bit conflicted- on one hand, Moffat's written some of my favorite episodes and introduced some of my favorite characters and monsters. I love "The Empty Child/The Doctor Dances", and River Song, Madame Vastra, Amy, and Rory are some of my favorite characters that he's introduced. But at the same time- his episodes got to a point where they felt a teeny bit repetitive. It'll be nice to have a new face for the writing! Chris Chibnall is taking over the writing after Moffat's last run for Series 10 next year. He apparently writes another BBC series, Broadchurch, and although I'm a bit wary (I mean, who isn't), Broadchurch has won three BAFTAs. PLEASE DON'T FAIL US, MR. CHIBNALL.
(I interrupt this post to briefly comment on the disturbing-ness of the Sour Path Kids Gum commercials on Spotify. So much death and destruction. I am confuzzled.)
Secondly! Back in April, they introduced the new companion for Series 10 during the FA Cup Semi-Final! Pearl Mackie will be joining the Doctor as Bill!
I'm so excited for her! She seems like a great companion- their bickering in the little introduction was great and I'm so excited for another (hopefully sassy) companion! Along with that, she's the first companion who's a non-white actress since Martha Jones, which was eight years ago. I mean, it's great to have another actress that's not white, but it's also sad that I can flip through my copy of Doctor Who Character Encyclopedia and only count four actors of color (Martha Jones, Mickey Smith, Liz Ten, and Mels/River Song during that one episode) in semi-major roles. BUT STILL: NEW COMPANION! I am very excited! And from the video she made during her first day of filming, Pearl Mackie seems to be very nice!
And lastly: Class, the new Doctor Who spinoff! AHH I AM SO EXCITED. It centers around four teenagers and their mysterious teacher at Coal Hill School and looks ABSOLUTELY AMAZING. Patrick Ness is writing it- !!!!!!!!!!!!- and I have no doubt it will be great. Katherine Kelly is playing their teacher, and the students are Vivian Oparah, Sophie Hopkins, Greg Austin, and Fedy Elsayed. I must say I've not heard of any of them, but I am so very happy for this show! It's already begun shooting and is *supposed* to air sometime late this year on the newly-online BBC Three and also BBC America for us here in the US. 😀 I think that if I can, I might try to review each episode. AHHH!
Along with all the awesome news about Class, Mr. Ness revealed something after the terrible Orlando shootings:
Been asked if Class will have LGBT representation in it. Will a lead character with a boyfriend who he kisses & sleeps with & loves do?

— Patrick Ness (@Patrick_Ness) June 13, 2016
We were keeping that secret, but today that secret doesn't seem very important. #lovewins

— Patrick Ness (@Patrick_Ness) June 13, 2016
SO THAT'S REALLY GREAT TOO. LGBTQ+ representation in TV is very minimal, and lately there's been a lot of backlash due to the fact that nearly all of them die as well. But still: yay! Class looks amazing and Bill looks amazing and Chris Chibnall looks amazing and ahhh I'm so excited for all the upcoming Doctor Who stuffs!