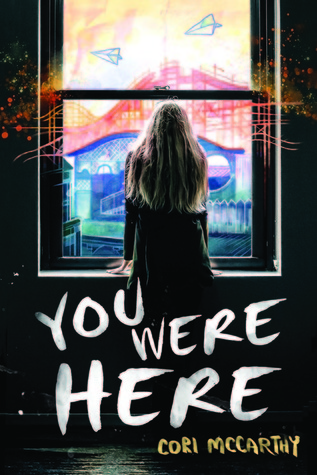 Ohhhhh my goodness. Oh mah goodness- I think this is the first ARC that I've fallen in love with this much (thanks, Netgalley and Sourcebooks!). I was not expecting to love You Were Here as much as I did! It was one of the most unique, thrilling reads I've had in the contemporary genre in a while.
(Also, its cover is mag-ni-fi-cent. Just sayin'.)
You Were Here is about teenager Jaycee, who has gone a bit rebellious after her elder brother Jake's daredevil death. Think "going-to-do-thedares-my-brother-didn't" rebellious. She's got four eccentric friends tagging along for their own reasons and with their own baggage. Man, this book was one rollercoaster of a ride. There's a ton of angst, but it also feels well-balanced with the events and Jaycee's dry humor.
Let's talk about Jaycee to start, because Jaycee Strangelove is one heck of an interesting character. She basically went a bit crazy after Jake died, and went and broke into old buildings and places because that's what he did. She had a lot of major character flaws- rude, cruel, and a snot, at times- and only tried to remember parts of her history with Jake. However, for the most part, I actually really enjoyed her character. I hadn't been sure if I would have after reading "As a tribute to Jake, Jaycee vows to complete the [dares he left behind], no matter how terrifying or dangerous" in the blurb, because, I mean, Jaycee. That's like the stupidest thing you could possibly choose to do. But she wasn't a total numbskull. She did some stupid things and was a bit of an awful person, but still interesting as a character.
So the whole thing with the dares is that Jake would do all these daredevil kind of things- not the dares I was thinking of, per say, like the one that killed him, but more of breaking into old places and abandoned amusement parks, that kind of stuff. The book is split into parts by each place they visit, which was a cool way to do it- it split up each little adventure they had and also is a good way to split up how each character felt mentally after visiting each place and having something happen. The plot of the book is essentially Jaycee trying to cope, while their group of semi-friendly friends visits the places. What makes it interesting is the bucketload of feels, angst, emotions, and coming-of-age stuff thrown in the mix.
(Also, a tad bit of background-ish romance. But don't worry, none of it is cringe-worthy.)
You Were Here is narrated by five of the main (sort of, it centers around Jaycee but I'd personally consider them main characters as well) characters: Jaycee, Natalie, Jaycee's ex-best friend and resident Hermione Granger, Natalie's boyfriend (sort of) Zach, constantly sidelined but actually pretty awesome, Bishop, who is all broken up after recently being dumped, and Mik (short for Ryan Mikivikious), Jake's former best friend and selective mute. What's really cool is that they all have their own unique narration for each chapter they have. Jaycee's is in first person point of view. Natalie and Zach are both third person for each of their separate chapters. And here's where it gets interesting- Bishop is a one-page "graffiti art" spread and Mik is told entirely in comic/graphic novel style. SUPER COOL. It's one of the most unique narrating formats I've ever seen.
In short, You Were Here promises one of the most interesting and conflicting reads in one of the most intriguing storytelling styles. I would definitely recommend it, and I think I'm also going to pick up a copy when it comes out in March! Gotta see those illustrations in their full-color glory. 🙂
Rating: Five out of five smilies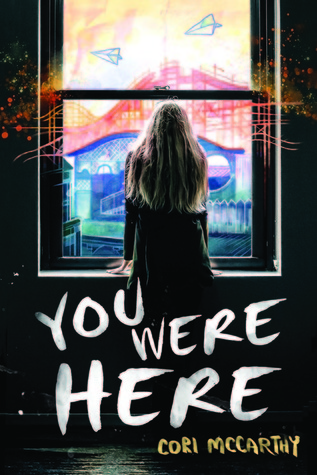 You Were Here
by Cori McCarthy
Publisher: Sourcebooks Fire
Publishing Date: March 1, 2016
Grief turned Jaycee into a daredevil, but can she dare to deal with her past?

On the anniversary of her dardevil brother's death, Jaycee attempts to break into Jake's favorite hideout—the petrifying ruins of an insane asylum. Joined by four classmates, each with their own brand of disfunction, Jaycee discovers a map detailing her brother's exploration and the unfinished dares he left behind.

As a tribute to Jake, Jaycee vows to complete the dares, no matter how terrifying or dangerous. What she doesn't bargain on is her eccentric band of friends who challenge her to do the unthinkable: reveal the parts of herself that she buried with her brother.