I read a LOT of books recently, and so I've put together a collection of mini-reviews instead of reviewing all of them. 🙂 I might do this every Monday, I think, with the books I've read from the previous week. Click on the title to go to the book's Goodreads page.
Me buying this book was entirely Emily @ The Loony Teen Writer's fault. She raves about it a lot, and so I had to get it. And her raving was for a good reason. I loved this book! Josie was a total klutz and reminded me of myself, and she tried so hard to be nice to everyone, even Ava, even though most of the time it just failed. I laughed a lot during this book! The only problem I had was that personally, I felt that although the book was centered around Josie's magazine job, after the beginning it seemed to get pushed out of the way a little, the regular intern stuff and what Steph and Ava were doing. I don't know if you guys feel that way, but that was my only thought. Other than that, this was an AMAZING book, and I enjoyed it so much!
Rating: 4 and a half smiley faces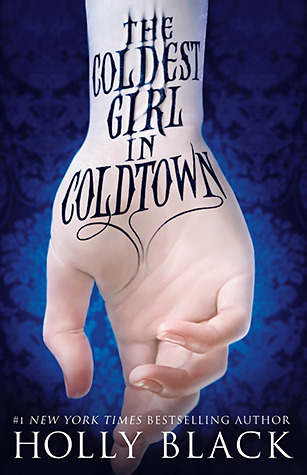 The Coldest Girl in Coldtown by Holly Black
This book. THIS BOOKS WAS WONDERFUL. Some of you may know that I am kind of obsessed with vampires (not sparkly Twilight vampires, real ones). And this turned out to be the perfect, non-sparkly vampire book. The whole idea of Coldtowns being set up and being bitten a kind of epidemic was a really cool idea. I loved the characters, especially Gavriel, and also Lucien (I just forgot his name, darn it, and I think that's it?). I loved how her sister came out to the Coldtowns, even though that was incredibly stupid. It was just a great book in all, and seemed "realistic" for a vampire-story.
Rating: Five smiley faces
Let It Snow by John Green, Maureen Johnson, and Lauren Myracle
This was a really cute collection! I have to say my favorite was the first one, The Jubilee Express by Maureen Johnson, was my favorite. John Green's A Cheertastic Christmas Miracle and Lauren Myracle's The Patron Saint of Pigs were okay, but just not my fave. All in all, though, it was cute and fluffy, and a nice little holiday read!
Rating: Three and a half smiley faces
This was an okay middle-grade book. I liked Lucy and Nate, and the grandmother, but it was kind of slow and felt like your classic, middle-grade kid's book at some parts. Not much flailing here, but an enjoyable, easy read.
Rating: Three smiley faces
The Great Gatsby by F. Scott Fitzgerald
****WARNING: SKIP THIS SECTION FOR SPOILERS****
WELL THEN. This was a very interesting book. To start off, it was very short and managed to pack in everything necessary about it without cramming in the span of 182 pages. I enjoyed Gatsby best of all, because he seemed the realest out of all of the characters. I honestly didn't realize that he was dead at first, and then I had to go back and reread it. It was very good, and an interesting little book about society and that kind of thing. Come to think of it, it didn't really have a purpose, but I suppose that was the point.
Rating: Five smiley faces
Wildwood Imperium by Colin Meloy and Carson Ellis
This was a wonderful conclusion to the Wildwood trilogy! We got to see more of everyone, and it introduced new ones as well. Carson Ellis' illustrations were amazing, and I especially loved the Governess (?). Very nice, and I'd recommend the Wildwood trilogy to…hmmm…let's see…EVERYONE.
Rating: Four smiley faces
Anna and the French Kiss by Stephanie Perkins
OMG THIS BOOK. THE FLUFF. IT MADE ME HAPPY. But let me get something straight here: I did not like Lola and the Boy Next Door. Nope. Just wasn't my thing. But this book was amazing. Beautiful characters? Check. Beautiful setting? Check. BEAUTIFUL EVERYTHING? CHECKITY-CHECK-CHECK.
Rating: Five well earned smiley faces
An Abundance of Katherines by John Green
This would have to be my number one non-depressing John Green book. I mean, tFioS is better, but that was a crying book. This isn't. It's funny, and vivid, and the characters were just amazing. Colin was awkward and funny and nerdy, Hassan was funny and sarcastic, and Lindsey was sweet and friendly and wonderful. For someone who hated Paper Towns and Looking for Alaska, I loved this book!
Rating: Five smiley faces
Ranger's Apprentice: The Ruins of Gorlan by John Flanagan
This was one of the best fantasy, middle-grade medival books I've read in a long time. The Rangers were really interesting, Will was a great main character, and I loved Horace and Will's friendship. Halt was so cool, always disappearing in and out of the shadows and stuff (reminded me of a medieval, nicer Snape). The creatures were interesting, but it really is a series you have to keep reading, as the prologue is about Morgorath and he doesn't even make an actual appearance in the rest of the book.
Rating: Four and a half smiley faces
The Distance Between Us by Kasie West
Another cute, fluffy read! I loved how Xander's name was actually Alexander, I've never seen it shortened like that before. Caymen wasn't the easiest to relate to, and I didn't like her best friend at all (see, I've gone and forgotten her name). But all in all, cute, fluffy, and flail worthy!
Rating: Four smiley faces