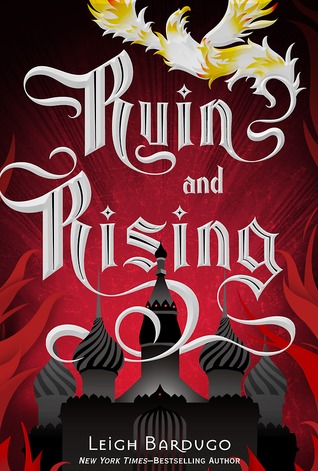 Ruin and Rising by Leigh Bardugo
Source: Library
Blurb (from Goodreads):
The capital has fallen.
 The Darkling rules Ravka from his shadow throne.
 Now the nation's fate rests with a broken Sun Summoner, a disgraced tracker, and the shattered  remnants of a once-great magical army.
 Deep in an ancient network of tunnels and caverns, a weakened Alina must submit to the dubious  protection of the Apparat and the zealots  who worship her as a Saint. Yet her plans lie elsewhere, with  the hunt for the elusive firebird and the hope that an outlaw prince still survives.
Alina will have to forge new alliances and put aside old rivalries as she and Mal race to find the last of Morozova's amplifiers. But as she begins to unravel the Darkling's secrets, she reveals a past that will forever alter her understanding of the bond they share and the power she wields. The firebird is the one thing that stands between Ravka and destruction—and claiming it could cost Alina the very future she's fighting for.
**WARNING: SPOILERS AHEAD!!!**
First Off:
Seriously, though. What just happened there?
I loved Shadow and Bone.
I liked Siege and Storm (mainly because of Nikolai. He rocks).
And now I'm just confused. 
Ruin and Rising started out good. The Apparat was evil, the Darkling wants to destroy things, there's a ragtag group of amazingness out to save Ravka. All's good, right?
But then Nikolai turned into an I-forget-what-they're-called and the Darkling went poof and things happened. I was very confused.
Let me just tell you something: I LOVE Nikolai. He's my favorite character, and probably one of the few reasons I liked Siege and Storm.
And then he goes and turns into a volcra and then like, disappears, by the end of the book and I'm thinking NOOOOOOOOO.
Why was Mal the firebird?
I still don't really understand this. Things are crazy. Mal dies, comes back to life (honestly, I wouldn't have minded if he stayed dead).
I don't like Mal.
Please don't kill me. He's kinda boring. I like the Darkling and Nikolai much better.
The Darkling:
This…was complicated. So Alina is now able to travel and see the Darkling and all that, and then the ending.
When Mal dies.
And Alina's powers go "fwoosh" and everybody's a Grisha.
And then you see the Darkling for what he really is, just a kinda lonely guy. He wants someone else in the world like him. And then HE GOES AND GETS STABBED IN THE HEART.
What? Again, what?
And then everything is happy again because Mal's alive and they go and live together at the orphanage.
Seriously. This book ruined the trilogy. But there were still things I liked.
Nikolai
The Darkling
Mal dying
Sometimes Alina
And then there's the things I disliked:
Mal in general
Alina in general
The Darkling dying
Awful ending
Mal coming back to life
Nikolai turning into a volcra
THINGS IN GENERAL
And on that note, I'm back! My tablet (aka my primary source for everything) broke, so it got sent off and reassembled and all that fun stuff. So, yeah.
I ALSO GOT BLOOD OF OLYMPUS AND FINISHED IT BE PREPARED FOR A REVIEW!!!